Date: Various Tuesdays (see below), 18:00-19:00
Location: Zoom https://ethz.zoom.us/s/63305173435 ID: 63305173435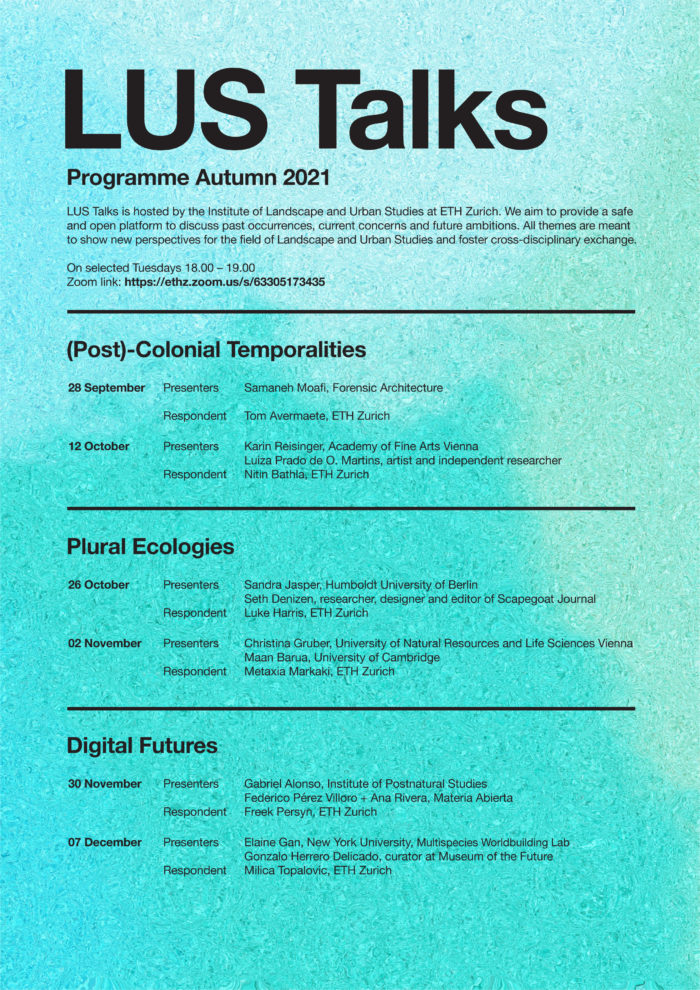 LUS Talks is hosted by the Institute of Landscape and Urban Studies at ETH Zurich. We aim to provide a safe and open platform to discuss past occurrences, current concerns and future ambitions. All themes are meant to show new perspectives for the field of Landscape and Urban Studies and foster cross-disciplinary exchange.
Session #1 (Post-)colonial Temporalities
28.09.2021
Speaker:
Samaneh Moafi, Forensic Architecture
Title: The Poly-perspectival Model
Respondent:
Tom Avermaete, ETH Zürich
12.10.2021
Speakers:
Karin Reisinger, Academy of Fine Arts Vienna
Title: Feminist Responses to the Prolonged Colonialities of Exploited Landscapes
Luiza Prado de O. Martins, Artist, researcher, Lusófona University
Title: The Councils of the Pluriversal: Affective Temporalities of Reproduction and Climate Change

Respondent:
Nitin Bathla, ETH Zürich
Session #2 Plural Ecologies
26.10.2021
Speakers:
Sandra Jasper, Humboldt University of Berlin
Title: Speculative Ecologies: the Future of Urban Wastelands
Seth Denizen, Researcher, designer, editor of Scapegoat Journal, Princeton Mellon Fellow
Title: The Outline of the Soil.
Respondent:
Luke Harris, ETH Zürich
02.11.2021
Speakers:
Christina Gruber, Artist, freshwater ecologist at University of Natural Resources and Life Sciences Vienna
Title: Shapeshifters: Rivers, Sturgeons and Dragons
Maan Barua, University of Cambridge
Title: Infra-Ecologies: the making of Urban Worlds
Respondent:
Metaxia Markaki, ETH Zürich
Session #3 Digital Futures
30.11.2021
Speakers: 
Gabriel Alonso, Institute of Postnatural Studies 
Title: Melting Ecologies
Federico Pérez Villoro + Ana Rivera, Materia Abierta 
Title: Transductive learning: improbable futures and self-imposed traps
Respondent:
Freek Persyn, ETH Zürich
07.12.2021
Speakers:
Elaine Gan, Artist-theorist, New York University, Multispecies Woldbuilding lab
Title: Sensing Chestnuts: Media for Ghosts, Monsters, and the Queen of Forests
Gonzalo Herrero Delicado, Museum of the Future, Central Saint Martins
Title: Curating for a Complex World: Speculative Realities
Respondent:
Milica Topalovic, ETH Zürich
Follow on Instagram @lus_talks
For further questions please contact Johanna Just or Sara Frikech.